The Chocolate Box Chocolatier
Premium Chocolates Made in Covington, GA
All of our candies are made fresh in small batches, which ensure that fresh taste you expect Every Time!!! If you can't decide on one item, or you're looking for a unique gift a Chocolate Box Gift Card is an excellent option.
We have been making award-winning chocolate and other confections since 2010.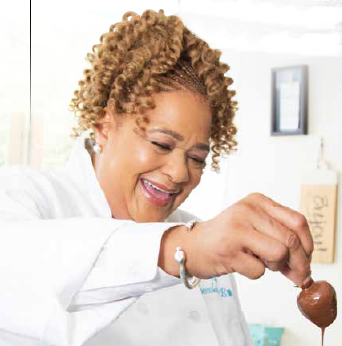 Some of our local and state-wide awards

What could be better than a presentation of chocolate-dipped strawberries or chocolate nut-clusters for that special birthday person.

We are specialists in creating event desserts. Whether it as a corporate event or a community program we can provide a tasteful and tasty selection of desserts and more.

Let us make your special day even more memorable with a dessert spread that your wedding guests and you will be talking about for years to come.
Miss Daisy's excellent personal service and smile plus delicious confections makes this place a must go for filling your sweet tooth! I loved the chocolate covered coconut caramel cookies (think of those seasonal favorites that are sold door-to-door only a cut above!) I also had some salty dogs and peppermint bark. Miss Daisy told me that she tries to sell that one only during the holidays but her regular customers won't let her! So they are available year-round. The salty dogs are wonderful salty chips and pretzels and roped in chocolate! Everything was absolutely delicious and I polished them all off before I even considered taking pictures of them. But I'll save the visual for when you show up at this place and look at them. She also keeps chocolate covered strawberries around and many other confections including peanut butter cups that apparently are hazardous and some former fashion but I'll let her tell you about them! I'll see you again soon Miss Daisy and thank you again!

Thomas "Tom" Liddle


June 28, 2021
Ordered some chocolate covered strawberries! They were a nice size and very fresh! They were sooo tasty!! Would definitely recommend! Forgot to post a pic because we immediately started eating them as soon as they got home! Would definitely recommend!

Amber Carter


February 25, 2023